---
Supporting the
Recognition

Preservation and

Study
(JavaScript -a.k.a. Active script- must be enabled to view text above and operate the menu items. For directions, go HERE.) Optimized for Internet Explorer 6.0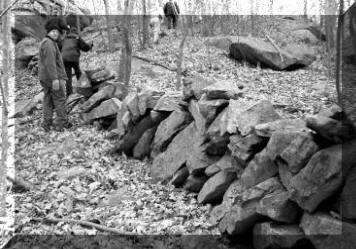 While our focus is primarily on Native stonework in the Northeast, these constructions can not be understood in isolation from examples found elsewhere throughout the continent. This site was founded to mark the 350th anniversary of the first known European record of Native American stonework and the 400th anniversary of Bacon's description of the essential problem in studying man's past, (quoted at upper right, above). On November 30, 1654, John Pynchon, founder of Springfield Massachusetts, wrote John Winthrop Jr., the man who would become Connecticut's first governor and America's first scientist:

"Sir I heare a report of a stonewall and strong fort in it, made all of Stone, which is newly discovered at or neere Pequot [New London, CT] , I should be glad to know the truth of it fro your selfe, here being many strange reports about it."

This subject is an ongoing area of inquiry. The recognition of the existence of Native stonework increases each year. Simultaneously, more and more is destroyed each year. Before these creations can be protected for future generations to enjoy, they first must gain wider recognition among the public. Please use this site as a resource to gain insight and join in the effort to create public and private solutions to insure their survival.

NativeStones.com is primarily a descriptive collection of Indian stone constructions. Little effort is made to analyze the meaning underlying these creations. This is for two reasons:

This area of inquiry is primarily archaeological in nature, hence any interpretations of the stone record are necessarily speculative; and

doing so would vastly expand the size of this site, venturing into areas outside the primary focus. The focus is documenting the vast collection of Native stonework blanketing the continent.

These constructions are vanishing rapidly as a result of development pressures combined with ignorance of their existence. Much has been obliterated, and much of what survives is threatened with destruction. Before this heritage from our predecessors can be thoroughly researched, it first must be identified and protected.
This they tell,
and whether it happened
so or not I do not know;
but if you think about it,
you can see that it is true.
-- Black Elk



This site will be continuously under construction. Stop back often for new material. If you would like to contribute new information or photographs, please CONTACT US. Submission of photos is assumed to allow posting, unless otherwise directed. Credit will be given for all submitted photos used. If a link is not yet active, stop back in the future. As pages are created, they will be listed in the Site Map.


Most of the stone constructions and sites depicted here are fragile, and vandalism and excessive visitation traffic will lead to their destruction. For this reason, no site location information will be provided. Do not ask, because the answer will always remain the same.

Copyright 2006, NativeStones.com. All rights reserved. All original materials on this site are protected by United States copyright law and may not be reproduced, distributed, transmitted, displayed or published without prior written permission. You may not alter or remove any copyright notice from copies of the content. You may download material from this site only for your personal, noncommercial use.